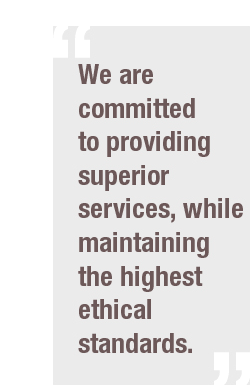 At Gershon Biegeleisen & Co. our mission is to understand the business of our clients, to help our clients identify their business and financial needs, and to provide the highest quality personalized services that will help them achieve their business and personal financial goals. We are committed to providing superior services, while maintaining the highest ethical standards.
We believe that by investing in the ongoing training of our professional staff and by encouraging our staff members to develop their professional abilities, we can provide our clients with the best possible results in each and every engagement.
We believe that when we look beyond the numbers and focus instead on each client and on each client's needs with genuine interest and concern, we can see the opportunity, challenges and solutions in every engagement. We believe that by giving our clients individual attention and listening and communicating with them openly and as often as necessary, we can best address their needs.